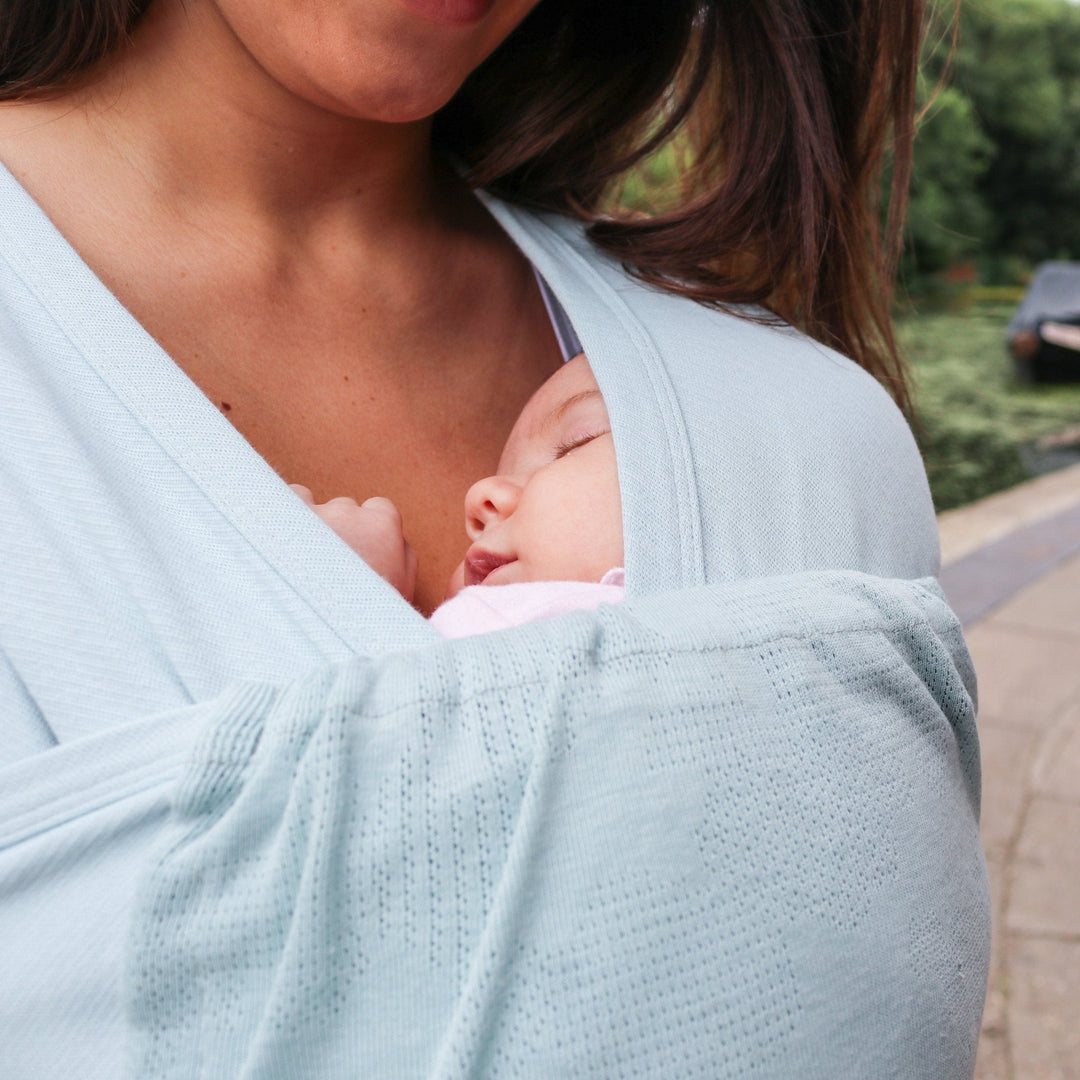 BABY CARRIER HIRE: Caboo Lite - Newborn Hybrid Stretchy Baby Carrier
---
Why hire a Close Caboo Newborn Carrier? Perhaps your baby is a an extra small cuddle bum and this is the safest and most suitable carrier for your low birth weight baby, and you want to borrow one until you can transition to something more structured.
Maybe you aren't sure whether you will use it, and want to give it a go before you commit.  
Save yourself some money, and do your bit for the environment by renting a Close Caboo Lite for those early weeks. You are welcome to provide a colour preference in the notes at checkout, however please note it isn't always possible to provide your preference. 
Read more about how our Baby Carrier Hire Service works. 
Why we love the Close Caboo Lite 
The Caboo Lite baby carrier is a light, breathable newborn stretchy carrier with the simplicity of rings to tighten. No need to wrap with long lengths of fabric! Simply put the carrier on like a t-shirt, position baby in an anatomically comfortable M-shape position on your chest and tighten, then wrap the outer layer around securely to ensure there are always 3 layers of stretchy material keeping your baby close and safe. 

Suitable to use for newborn babies from 2.3kg to approximately 8kg (max weight 15kg), parents and carers will love this easy, breezy baby carrier. Suitable for use with low birth weight babies. Adjusts to fit most adults: simply pull the material through rings to tighten, then tie the third layer around the middle. The third layer also converts into a handy storage bag to keep the carrier in when not in use.
Easy & comfortable, even weight distribution, good back support for wearer. Safe for baby, wide straps cradle baby's delicate neck spine and hips.
COMPOSITION:
70% Cotton, 30% Polyester
The easy answer is:
Hire a carrier, use it for a few weeks, then send it back!
Cloth and Carry is excited to offer Australia's first private premium baby carrier hire service. 
Why hire a baby carrier?
Try before you buy
Not sure what will work for you and your family
Want to try something new
Need it for a holiday (*domestic travel within Australia only)
Borrowing a newborn or preemie-friendly carrier until baby fits in a standard baby carrier
Can't get to a babywearing meet 
Ready to go up to a toddler sized carrier
Babywearing addiction! 
How does it work?   
Browse our Baby Carrier Rental Collection and find the carrier style you would like to try.
Select your hire period and colour preferences, then add to cart.
Pay for postage (we recommend purchasing the return postage add-on as well) or choose to collect from our Beeliar Home Showroom. 
You can book a FREE online carrier fitting or join one of our regular online demonstrations for help. 
Use the carrier as much as possible, and ask for help at any time. 
Don't forget to make sure it comes back to us by the correct date! 
Things you should know:
Your hire baby carrier will arrive clean and ready to use. 
Please ensure your child meets the weight and length recommendations for the hire carrier before booking your hire period. If you aren't sure, please get in touch with us. 
You must respect the manufacturer's guidelines and use the carrier only as intended. TICKS babywearing safety should also be adhered to at all times. Cloth and Carry, and all associated employees and directors, will not be held responsible for incorrect use of a baby carrier. 
If you aren't sure whether you are wearing the carrier correctly, please reach out. You can send us photos and videos for a fit check at any time during your hire period via email, social media and text message. 
The minimum hire period is generally 2 or 3 weeks, up to a maximum of 10 weeks. *Newborn and preemie friendly carriers have a negotiable hire period. If you are travelling and require a shorter loan period please get in touch. 
Hire carriers that require postage will be sent via Australia Post with tracking included. All returns must be returned in the same manner, and tracking information must be provided if you arrange the return shipping yourself. 
Unreturned carriers will be charged at a rate of $5 per day beyond the loan period, and if not returned within 28 days of the end of your Rental Agreement, you will be invoiced for the total (retail) replacement cost of the carrier. 
Free contactless click and collect (Beeliar WA).
Need your rental carrier posted? You can choose from our 2 shipping options to get the carrier to you, and we recommend purchasing the flatrate return shipping label to avoid having to pay Australia Post customer rates!
Standard Shipping: $10
Express Shipping: $15
See our full shipping policy here.
Here you will find more information on our policies related to
privacy
,
shipping
,
refunds
 and
terms of service
.